About Us
Welcome to Scratching a Living Ltd.  We are a family run, friendly little company specialising in greeting cards, artwork and products by award winning Emsworth artist Marian Forster.
Marian combines her artistic gift with quirky visual humour to capture light hearted and unusual observations on all aspects of life, which we bring to you in a series of greetings cards and products.
Along with the new ranges of greetings cards, which we will be increasing on a regular basis, we also have available bunting and bags featuring images of Marian's work for you to enjoy, along with a weekly blog to keep you updated with all the comings and goings of Scratching a Living team.
I hope you enjoy the new look site and the wider range of products. Please pop back and see us regularly to check what's new in the Scratching a Living world.
Best regards
Emma
Marian Forster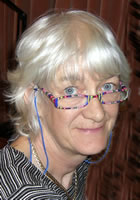 I began my artistic career as an archaeological illustrator working on the Mary Rose project, drawing a wide range of objects but specialising in illustrating, researching and making replicas of the leather jerkins found on board the ship. This was a very good grounding in drawing but it was not until 1990 when I took up painting that my world just exploded into colour!
I live in Emsworth on the south coast, very near the sea, and endeavour to bring humour and an eye for the unusual to my paintings of the region, its people and wildlife. I specialise in feline, canine, wildlife and maritime subjects (to name but a few - I cover a very broad spectrum of subjects) and have won the award for best watercolour at two consecutive exhibitions of the Royal Society of Marine Artists at the Mall Gallery London.
As a member of the Society of Feline Artists I regularly exhibit my paintings of quirky stylised Siamese cats at their Annual September exhibition, which is held at the Llewellyn Alexander Gallery in London.
My first cat painting was inspired by a memorable experience with one of our own Siamese cats. We already had Sakki, a Seal Point Siamese, before acquiring a surprisingly dim Chocolate Point but of excellent lineage. We thought she might be a perfect candidate to produce a litter of pedigree kittens. Lucy however, had her own ideas about this and jubilantly found her own mate, a huge battle scarred, scraggy vagrant, black and white Tom of suspect parentage, lax grooming, host to a colony of fleas and a habit, if the opportunity arose, of sleeping on nice clean chairs.
The resulting 8 kittens were black and white, just like their father but with their Mother's blue eyes, vocal range and volume. When the time came, it was not difficult to sell them. Our advert in the local paper read 'Half Siamese kittens for sale. Mother cat of excellent pedigree but loose morals!' - It brought a huge response.
Some years later I entered my painting, entitled 'Excellent pedigree but loose morals!' into the Chichester Art Society's Annual Exhibition; not only did it win the President's prize but the President also bought it!
'Excellent pedigree but loose morals!' was the inspiration for my first series of Siamese cat greetings cards, which, along with many other new subjects and series (including dogs, rabbits and other categories soon to be added)  are available to purchase from the website, Seasonal cards are also available - please visit us again for updates.
Marian